One Decade After Certificate of Merit & Venue Rules Implemented, Medical Malpractice Filings Normalize
The Administrative Office of Pennsylvania Courts ("AOPC") recently released statistics that illustrate the effects of the procedural changes implemented by the Pennsylvania Supreme Court in 2003 that required cases to be brought in the venue where the action arose and that each lawsuit be certified by a medical professional.  After the tort reform changes were put into effect, medical malpractice cases dropped 41% across the state.  They rose slightly in 2004, but then began a steady annual decline until last year.  Specifically, 2013 saw a small statewide increase of 1,546 total medical malpractice filings from 1,510 filings in 2012.  This number represents a -43.4% change from the 2000-2002 average of 2,733 that AOPC used as a base number.  
Although Philadelphia still has the greatest number of filings, 2013 brought 7 less cases than the year before—from 389 filings in 2012 to 382 in 2013.  The 7-case drop represents only a 1.8% difference; however, it marks Philadelphia County's second lowest year for filings since 2003.  This is a -68.3% change from the benchmark years of 2000-20002 when Philadelphia averaged over 1,200 cases each year.
2013 MedMal Filings - PA*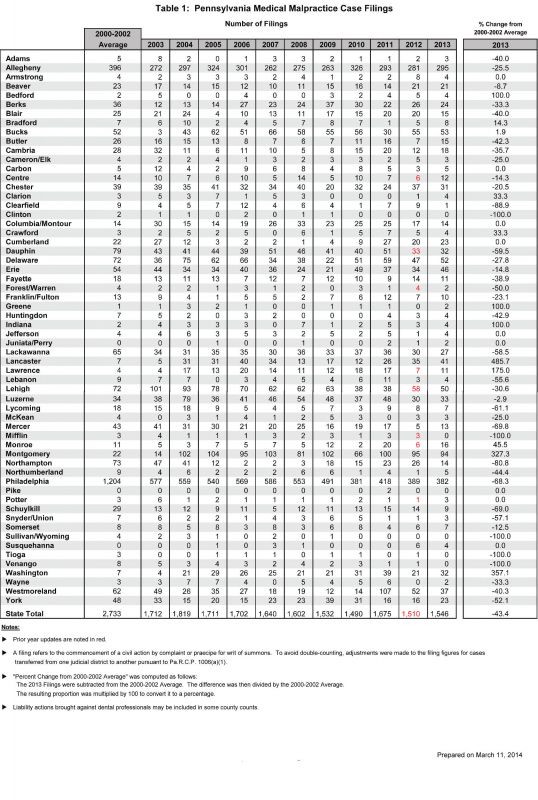 While 2013 saw a small increase in medical malpractice filings, it also saw a drop in plaintiff verdicts.  Pennsylvania saw 110 cases return jury verdicts in 2013, and of those cases, 85 of the verdicts were for the defense, representing 77.3% of all medical malpractice verdicts.  Montgomery County bested that average with 81.3% of its medical malpractice verdicts finding for the defense.  Philadelphia County split nearly evenly in 2013 with 55% of its juries favoring the defense.  In Allegheny County, where 2013 filings were up almost 5%, all of its cases that went to a jury came back for the defense.  Bucks and Chester Counties also had 100% of its medical malpractice jury cases return defense verdicts.  Plaintiffs faired better in Delaware County and Berks Counties where they had 33.3% of the verdicts in their favor.  However, the one plaintiff verdict in Berks County was between $1 million and $5 million and both plaintiff awards in Delaware were less than $1 million. 
2012 MedMal Jury Verdicts - PA*                 2013 MedMal Jury Verdicts - PA*
Statewide, there were only 2 verdicts greater than $10 million in 2013; one award in Lehigh County and the other in Philadelphia County.  There were no awards greater than $5 million but less than $10 million whereas the year before there were 7 such verdicts and 3 verdicts greater than $10 million. 
* Source