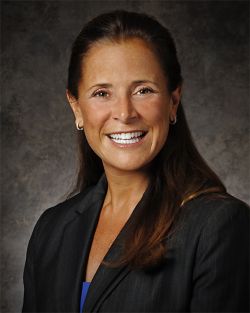 ---
Ms. Hansen is a litigator and has tried cases in Philadelphia County, the surrounding counties and the Federal Courts. She has successfully defended hospitals and physicians in complex medical negligence litigation. A substantial portion of her practice involves catastrophic obstetric and orthopedic claims. Ms. Hansen has lectured extensively on these issues and has made presentations to the National Judicial Conference and at Grand Rounds at numerous hospitals. She has also co-authored two chapters in medical texts regarding medical malpractice litigation. She has served as a trained mediator for medical negligence claims for Health Care Resolutions and is certified in Mediation through the Drexel University College of Medicine Mediation Program and Pepperdine University School of Law, Straus Institute for Dispute Resolution & Vermont Law School, East Coast Professional Skills Program, STAR – A Systematic Approach to Mediation Strategies. Heather has served as a Judge Pro Temp for the Philadelphia Courts.  She is also a volunteer Child Advocate Attorney for the Support Center for Child Advocate and was honored for her pro bono work by the First Judicial District of Pennsylvania in 2013. 
| | |
| --- | --- |
| | Heather is a Fellow of the American College of Trial Lawyers. Fellowship in the College is by invitation extended to the top one percent of trial lawyers who have demonstrated exceptional skill as advocates and whose professional careers have been marked by the highest standards of ethical conduct, professionalism and civility. |
Heather also speaks frequently for hospitals, universities and professional / legal associations.
Practice Areas:
Recent Representative Matters:
Named to Pennsylvania Super Lawyers:
2005 (Rising Stars)
2006 (Rising Stars)
2007 (Rising Stars)
2008 (Rising Stars)
2011
2012 (Top 100 Philadelphia, Top 50 Women)
2013 (Top 50 Women)
2014 (Top 50 Women)
2015 (Top 50 Women)
2016 (Top 50 Women)
2017 (Top 50 Women)
2018 (Top 50 Women)
2019
2020
2021
2022
Bar Admissions:
Education:
Villanova University School of Law, Villanova, Pennsylvania, 1997, J.D.
The American University, Washington, D.C., 1994, B.A.
Professional Associations and Memberships:
Philadelphia Area Society for Healthcare Risk Management
Pennsylvania Bar Association
Philadelphia Bar Association - Co-Chair of the Medical Legal Committee
Montgomery County Bar Association
Senior Fellow, Litigation Counsel of America, LLC (2008-2016)
Fellow, The Fellows of the American Bar Foundation, 2014
Fellow, The American College of Trial Lawyers, 2018
Published Works:
Author, The Elegant Warrior: How To Win Life's Trials Without Losing Yourself, April 2019
Co-author, Infection Following Total Joint Arthroplasty is the Main Cause of Litigation: Data from One Metropolitan Area,The Journal of Arthroplasty, December 2017
Author, How To Maintain Humanity In An EMR World, Law360.com, January 2014
Co-author, Legal Concerns of EMR and PACS, Advance for Imaging & Radiation Oncology, February 2011
Co-author of Chapter, Legal Implications and Strategies, The Textbook of Spinal Surgery, 3rd ed. (Paul Craig, R.N., J.D., et al., 2011)
Co-author, Legal Implications and Strategies for Managing Complications in Spinal Surgery, Complications of Pediatric and Adult Spinal Surgery, Chapter 47, (Alexander R. Vaccarro et al. eds. 2004)
Classes/Seminars Taught:
Faculty, The Dispute Resolution Institute's 23rd Annual Personal Injury Potpourri Seminar, Virtual CLE Webinar, April 2021
Faculty, The Dispute Resolution Institute's Annual Personal Injury Practicum CLE, Philadelphia, PA, November 2019
Faculty, The Dispute Resolution Institute's 21st Annual Personal Injury Potpourri Seminar, Philadelphia, PA, April 2019
Faculty, The Dispute Resolution Institute's Personal Injury Practicum Seminar, Philadelphia, PA, November 2018
Panelist, Philadelphia Bar Association Bench-Bar & Annual Conference 2018, Discussing Damages-How to Maximize or Limit Recovery, Atlantic City, NJ, October 2018
Faculty, Philadelphia Bar Association Lunch Program, A View From the Bench: What Persuades Jurors These Days in Medical Malpractice Trials?, Philadelphia, PA, August 2018
Faculty, Drexel University College of Medicine, Ground Rounds, Building Relationships Among Healthcare Team to Ensure Better Health for Patients and Providers Alike, Philadelphia, PA, March 2018
Speaker, Lessons from Lawsuits: How to Use Health IT to Avoid Being Sued and Improve Healthcare Teams, HIMSS Conference & Exhibition, March 2018
Presenter, Winning Med Mal Cases at Arb or Trial, PA Association for Justice, November 2017
Keynote Speaker, Leading HealthCare Organizations Conference, Vigor Events, Kuwait, October 2017 
Keynote Speaker, Stryker Women in Spine, Washington, D.C., September 2017
Keynote Speaker, Global Health Equity Session-World Woman Summit 2017, Clinton Presidential Centre, Arkansas, September 2017
Stanford Medicine's Medicine X 2017, Stanford School of Medicine, September 2017 
Medical-Legal Documentation, Obstetrics and Gynecology Department, Einstein Medical Center Montgomery, March 2017
How to Ask a Question, University of California - Hastings College of the Law, San Francisco, CA, February 2017
Advanced Torts: Law and Practice, Medical Malpractice Class at Stanford Law School, Stanford, CA, February 2017
Advanced Torts: Law and Practice, Medical Malpractice Class at Berkeley Law, University of California, Berkeley CA, February 2017
Spine Surgery Trial: Anatomy and Prevention, Tufts University Grand Rounds, Medford MA, January 2017
The Arbitration of a Hospital-Acquired Pressure Ulcer Lawsuit, Jefferson Health's 2nd Annual Global Pressure Ulcer Prevention Conference, Philadelphia, PA November 2015
Medical Indemnity Challenges for Acute Hospital Services: The United States and Pennsylvania Experience, Irish Hospital Consultants Association's Annual Conference, Dublin, Ireland, October 2015
Recent Changes in PA and NJ Medical Malpractice Law and Practice, Coverys Law Day, Princeton, NJ, September 2015
Electronic Medical Records, Main Line Health's Physician Symposium, Philadelphia, PA, September 2015
End Distracted Driving, CertainTeed Environmental Health & Safety Day at Saint-Gobain, Malvern, PA, September 2015
Down The Shore: Tort Law Update, Pennsylvania Bar Institute, Atlantic City, NJ, August 2015
Medical Malpractice Update, Pennsylvania Bar Institute, Philadelphia, PA, November 2014
The Ethics of Covering a Moving Media Target, Opening Plenary, Philadelphia Bar Association's Bench-Bar & Annual Conference, October 2014
Medical Malpractice Update, Pennsylvania Bar Institute, Philadelphia, PA, March 2013
What MedMal Defense Lawyers Need to Know about the New Benevolent Gesture Law..., Pennsylvania Bar Institute, Philadelphia, PA, November 2013
What Pennsylvania Lawyers Need to Know About New Jersey Personal Injury Practice, Pennsylvania Bar Institute, Philadelphia, PA, August 2013
Depos-for P.I. Lawyers, The Dispute Resolution Institute, Pennsylvania Convention Center, July, 2013
Brain Injury Claims & Litigation, American Conference Institute 2nd Annual Summit for Med Mal and Other Personal Injury Leaders, The Union League, Philadelphia, PA, March, 2013
Medical Malpractice and Electronic Medical Records, Drexel University College of Medicine, Philadelphia, PA, February 2013
What Pennsylvania Lawyers Need to Know About New Jersey Personal Injury Practice, Pennsylvania Bar Institute, Philadelphia, PA, November 2012
Navigating the Current Medical-Legal Environment, Lankenau Hospital, Wynnewood, PA, April 2012
Breaking Down the Basics Series-Civil Procedure Practicalities, Pennsylvania Bar Institute, Philadelphia, PA, May, 2011
Medical Legal Issues, Drexel University College of Medicine, Department of Medicine Grand Rounds, Philadelphia, PA, April, 2011
The Pulse of Med Mal: Advanced Issues in Your Practice, Pennsylvania Association for Justice, Philadelphia, PA, April, 2011
Grand Rounds, Drexel University College of Medicine, Department of Obstetrics and Gynecology, Philadelphia, PA, July 2010
Medical Legal Issues in Ultrasound, Virtua Hospital Voorhees, Voorhees, NJ, June 2010
Medical Legal Issues in Ultrasound, 30th Annual Leading Edge in Diagnostic Ultrasound Conference, Atlantic City NJ, May 2010
Mock Trial, Pennsylvania American College of Emergency Physicians Annual Scientific Assembly, April 2010
Trial of a Medical Malpractice Case, Pennsylvania Bar Institute Seminar, Philadelphia, PA, December 2009
Practical Aspects of Personal Injury Depositions, Pennsylvania Bar Institute Seminar, Philadelphia, PA, December 2009
Electronic Medical Records, Drexel University College of Medicine, Psychiatry Department Grand Rounds Philadelphia, PA, November 2009
Medical Legal Electronic Medical Record Program, Drexel University College of Medicine, Nephrology Department Philadelphia, PA, April 2009
Medical Legal Update, 9th Annual Thomas Jefferson Spine Fellows Alumni Symposium, Orlando, FL, July 2009
Management Options and Their Implications, Globus Medical Complex Case Review Meeting, San Diego, CA, March 2009
American Academy of Orthopedic Surgeons Annual Meeting, Las Vegas, NV, February 2009
Medical Legal Electronic Medical Record Program, Drexel University College of Medicine, Department of Medicine's Grand Rounds, January 2009
The Defense Perspective On Medical Malpractice, University of Pennsylvania - Torts Class, November 2008
Legal Documentation, Riddle Memorial Hospital Grand Rounds, October 2008
Thomas Jefferson Spine Fellows Symposium, Newport, Rhode Island, July 2007
Innovative Technology in Spine Surgery, Los Cabos, Mexico, June 2007
ER: Trying the Emergency Room Med Mal Case, Pennsylvania Trial Lawyers Association, Philadelphia, 2007
Mock Trial, Temple University School of Medicine, 2007
The Labor of Litigation, Ross Conference for Hospital Nurse Managers, Ross Products Division of Abbott Laboratories Inc., December 2006
Mock Trial, University of Pittsburgh School of Medicine, 2006
Prevention of Medical Chart Irregularities and Preparation for Case Defense,  Medicine Department Grand Rounds, Drexel University College of Medicine, 2006
Thomas Jefferson Spine Fellows Symposium, Newport, Rhode Island, July 2006
Innovative Technology in Spine Surgery, Los Cabos, Mexico, June 2006
Innovative Technology in Spine Surgery, Los Cabos, Mexico, July 2005
Mock Trial, Drexel University College of Medicine, 2005
Documentation & Communication, Psychiatry Grand Rounds, Drexel University College of Medicine, 2005
11th Annual Health Law Update, Pennsylvania Bar Institute, 2005
Mastering Med Mal Mediation, Pennsylvania Bar Institute, 2005
Documentation and Communication, Physicians' Assistant Grand Rounds, Drexel University College of Medicine, 2004
Maximizing Efficiencies in Arthroplasty, Pennsylvania Hospital, 2002